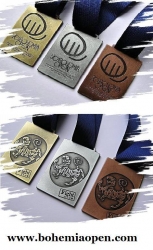 Irena Markovic
Formou reportáže skrz prezidenta našeho svazu karate pana Petra Beníška vám přinášíme informace o 1. Mezinárodním otevřeném Mistrovství České republiky v karate World Shotokan Karate Union - v ČR zastoupené Českým svazem karate Czech Shotokan Karate Union, které se konalo ve dnech 26.-28. 10. 2013 v Českých Budějovicích a jehož organizací byl pověřený oddíl Fight Club České Budějovice.
Program začal sobotním seminářem s 6 -násobným mistrem světa v kata Lucou Valdesim. Úvod byl zaměřen na kata Jion a obohacen o nácviky koordinace, typické pro italskou školu karate. Následoval blok kumite pod vedením Gogity Akanina, jednoho z nejlepších světových závodníků váhy do 84kg. Tomuto medailistovi z ME i MS WKF, dvojnásobnému vítězi K1 Premiere league asistoval celý gruzínský tým, který jak na seminářích, tak i na závodech svými výkony, chováním a nadšením, skvěle reprezentoval svou, pro někoho exotickou zemi. Odpoledne se na přání vyspělejších cvičenců procvičovala kata Gojushiho-sho a Gankaku . Poté se v nejlepší formě prezentovali čerství vítězové World Combat Games z Petrohradu, Rafael Aghayev a Shahin Atamov. Pondělní program kata byl celý ve znamení Unsu a průpravných cvičení nezbytných pro tuto vrcholnou sestavu. Dopolední blok kumite opět vedli Rafael Aghayev a Shahin Atamov a v posledním odpoledním bloku se v plynule střídali Rafael, Shahin a Gogita Arkania, a každý z nich ukázal, proč patří ke světové špičce.
Semináře se bohužel nemohly konat ve stejné hale jako nedělní závody, což způsobilo nemalé logistické potíže s neustálým převážením a stavbou tatami a dostatkem místa pro cvičící. Město České Budějovice v současnosti disponuje pouze jednou sportovní halou těchto rozměrů, kde prioritně uspokojuje potřeby volejbalového klubu. Pořadatelský tým se snažil řešit tuto situaci výměnou a rozšířením plochy v odpoledním sobotním bloku a tím tuto situaci zvládnout ke spokojenosti cvičících a to se, dle mého mínění, podařilo. Do budoucna bychom rádi podobným komplikacím předešli a vždy umístili semináře do stejné haly, jako závody.
Nedělní turnaj startoval, jak již bývá zvykem, soutěží kata, kde se od nejmladších věkových kategorií , a to i v eliminacích, prezentovaly velmi pokročilé kata. V kategorii chlapci U12 zvítězila americká hvězda Danny Mendoza, který v semifinále s precizně zacvičenou Gojushiho-dai porazil výborného Beránka cvičícího Gojushiho-sho a ve finále s Unsu jednoznačně zvítězil nad maďarským karatistou. Z českých závodníků se v disciplíně kata na nejvyšším stupínku podařilo stanout těmto karatistům: Matěj Říha (U14, U16), Barbora Znamenáčková (U14), Zuzana Augustinová (U16), Sabina Křížová (U18) Marek Pohanka (senioři), Ivana Dvořáková (seniorky), Martin Hermann (masters). Ceny medailistům v disciplínách kata předávali Luca Valdesi (6x World Champion), Kakha Basilia (President WKF Georgia a Vice President WSKU) a Konstantin KIKALISHVILI ( Vice President of Russian Karate Federation) za asistence maskota klubu FC České Budějovice Pifa.
Nad celým turnajem, z pozice hlavního rozhodčího bděl Marek Kubín, držitel nejvyšší licence WKF, člen komise rozhodčích WSKU. Ten, díky svým osobním kontaktům, zajistil účast kvalitních mezinárodních (Madarsko, Německo, Rakousko, Polsko, Slovensko) a národních rozhodčí, kterým zdařile sekundovali držitelé regionálních licencí.
Nutno přiznat, že na počátku závodů došlo ke zhruba 45 minutovému časovému skluzu z důvodu technických problémů, týkajících se elektronických zařízení na jednotlivých zápasištích. Příští rok jistě budeme materiálnímu zabezpečení celé akce i personálnímu obsazení technické podpory věnovat zvýšenou pozornost. Nicméně časová ztráta se díky obsazení 6 tatami rychle podařila dohnat a závody v disciplínách kata, kumite wkf a kumite ipon shobu WSKU končily kolem 19:00.
Závěrem mi dovolte osobní a ryze subjektivní zhodnocení celé akce. Účast na seminářích a to zejména kata překročila mé očekávání a to je do budoucna velmi povzbudivé zjištění. Úroveň závodníků v převážné většině kategorií se mi jevila jako velmi vysoká, a to především v žákovských kategoriích, kde se nejvíce dařilo slovenským a maďarským závodníkům. Již výše zmiňovaný Danny Mendoza získal po vítězství v kata druhé zlato v kumite U12 -30 kg, to vše ve svém jubilejním 100. turnaji. V seniorské kategorii dominoval Gogita Arkania, který téměř všechny své zápasy ukončil před limitem, ale velmi dobrý dojem zanechal také budějovický Petr Kubička, který ve své váze do 75kg získal cenný skalp gruzínského závodníka, Henriho Vekui, medailisty z ME 2010.
Děkuji všem závodníkům i účastníkům semináře, za skvělé výkony na závodech a disciplinované a soustředěné vystupování na seminářích a věřím, že největší odměnou jim bylo strávení, byť i krátkého času, po boku legend světového karate. Medailistům se dostalo cti přebírat od nich ocenění na stupních vítězů. Děkuji rozhodčím za korektní posuzování předváděných výkonů. Velice děkuji pořadatelům z řad rodičů v čele s Mgr. Martou Frydrychovou, RNDr. Pavlínou Tinavskou PhD a Ing. Miroslavem Láchou a také starším závodníkům z našeho oddílu, kteří i přes velkou fyzickou zátěž pomáhali s přípravou turnaje. Oni jsou ti, kteří na svých bedrech nesou nejvíce práce a úkolů. Děkuji Zdeňkovi Říhovi A speciální poděkování směřuji Jindrovi Pilmannovi za skvělý a odborný překlad. A nakonec, ovšem nikoliv v poslední řadě, děkuji lektorům Lucovi, Rafaelovi, Gogitovi a Shahinovi za velmi osobní, emotivní a inspirující výklad a prezentaci vrcholné úrovně.
Statistika:
Celková účast: 15 států, téměř 400 závodníků, 704 startů.
6 tatami, software – sportdata, on-line přenos fa. Patrokolos, LCD obrazovka – AV technics
Semináře: Kata (120) Kumite (160)
ARMENIE, BĚLORUSKO, BRAZÍLIE, ČESKÁ REPUBLIKA, DÁNSKO, ANGLIE, GRUZIE, NĚMECKO, MAĎARSKO, ITÁLIE, LUCEMBURSKO, RUMUNSKO, RUSKO, SLOVENSKO, USA,
12 států na medailových pozicích, 57% cizinců na stupních vítězů, 58 klubů na medailových pozicích